Guitar strings play a significant role in bringing drastic changes to both the tone and feel of sound when you play the guitar. Whether you are a guitarist who plays at live concerts and bands or a guitarist who is a beginner just starting with a nylon string guitar, choosing the right strings is a bit overwhelming. The overall tone and playability of every guitar from electric to bass depends upon how good your guitar's strings are. What do you think that makes your guitar sound so right? Body woods, amps and pickups do contribute towards producing a good tone but choose a set of rusty strings, and you will regret the decision. It is seen in many cases that the clear sound of a classical guitar is ruined by the choice of a set of bad strings.  
Top 5 Best Nylon Strings
People who refer to the nylon string or classical guitar strings refer to the same thing. In earlier times, the classical guitar strings were made with silk and other similar components.  The three thickest strings were made out of silk, and the three thin ones were plain.Nylon strings are made with the same process in today's time. Moreover, nylon strings are physically easier to play because they are prone to less tension as compared to steel strings which are comparatively complicated and hard for the fingers while playing. Nylon strings come in different varieties depending upon the tension: low, medium or high. High tension strings are a bit tricky to fret but the sound produced is melodious. Standard tension strings make a balance between high tension and low tension strings, thus become the most popular choice among the guitarists.
How to Choose
The selection of classical guitar strings cannot be made entirely from the reviews and their quality. Before finding strings for your instrument, it is necessary for you to be aware of the current sound of your guitar. Some guitars favour high frequencies; in such a case high tension strings will be a good choice as these strings will have a dampening effect which will help to control high-frequency sounds which are difficult to pierce. In case your guitar emphasizes on low frequencies then you must choose low tension strings to tune the sound of your instrument. But making a right choice doesn't merely depend on the sound of your guitar. In some cases, you must have to do an experiment with different strings to find out the best one. Thankfully, guitar strings are not too inexpensive. You can put some extra investment and effort to ensure that you get a set of strings that proves to be the best match.  
Talking about the choice between unadorned guitar strings and ball end nylon guitar strings, people usually don't notice much difference. But in some rare cases, there is a possibility that ball end strings are not made up of the decent quality by the manufacturer which may create problems in tuning the sound.  Some ball end strings that have been made by branded companies have the capability of producing sound just as good as plain ones.
General Things That You Must Look Before Buying Guitar Strings
If you are going to buy guitar strings for the first time, then you must consider several things before purchasing them. The best strings in the world will not make a poor old guitar sound good, but a weak set of strings attached to a high-quality guitar can make it sound bad.  Find the finest quality guitar by considering some of the following aspects:
The String Material is highly important in this aspect. Clear nylon strings are extracted and then calibrated professionally to achieve high accuracy. Rectified nylon strings are extruded and are grounded which provide them with a subtle texture and roughness. Bass strings are made of bronze wire, or silver plated copper wire, and treble strings are made of carbon or with clear rectified nylon. The thickness of the guitar strings also play a fundamental role in tuning the sound that it produces. The electric guitar strings are thinner than that of acoustic guitar strings.  Whatever guitar you play, heavier strings are the best to provide aggressive strumming and a little tuning. If you are a mere beginner, then you may choose to light gauge strings as they are easier to play and it takes less effort to fret and bend them. The quality of manufacturing must also be checked as strings that are made of high-quality materials hold up well when you play them. People struggle a lot while searching the right guitar string, but thankfully you have come to a right place. In this article, we will aid you in choosing the best classical guitar strings as per your requirements. Have a look at the reviews of some of the best traditional string models to make a better choice:
D'Addario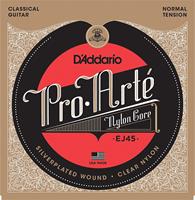 D'Addario's guitar strings are considered to be one of the best guitar strings that deliver a full tonal spectrum shaping the tonal qualities of your guitar. The quality of manufacturing is superb as it provides adequate corrosion resistance for a longer lasting uncoated string. It is made up of high-quality NY steel composed of carbon to deliver stability of tone and unique strength. This product has been made in the USA and to provide high performance for guitarists. It provides a clear and crisp sound that will accentuate the tone of any guitar. People who have used these strings believe that it provides outstanding balance and harmonically rich overtones. They enjoy an improved tuning and stability in their live performances. This product is engineered to provide pitch stability so that guitar players spend more time playing and less time tuning the instrument. The greater clarity and harmonically stable and rich overtones produced by a guitar depend upon its highs and lows. A unique combination of the nickel-plated phosphor bronze which is wrapped onto the high carbon NY steel core is capable of delivering a full range of highs and lows. These are Ball-ended nylon strings that improve tuning stability improvising greater break resistance.
---
Ernie Ball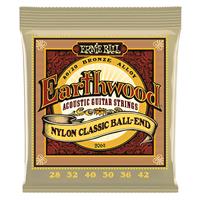 This product comes in a pack of 1, 3 and six enclosed in a single, flow-wrap package.  Legends all over the world such as Slash, Jimmy Page, Metallica, Eric Clapton make use of Ernie Ball guitar strings in their concerts. This product has Element Shield Packaging to increase their life and keeping them as fresh as they were during the first day. These guitar strings have always been a favorite of legendary musicians from 50 years.  The strings are professionally engineered to provide precise gauges as well as core to wrap ratios. This product was originally founded by Ernie Ball almost 50 years ago, and as of now, it is today's industry standard. It provides even rich harmonics and helps in shaping the unique sound of rock and roll amidst its highs and lows. The strings are made up of a nickel plated steel which is wrapped around the tin plated and high carbon steel core. The best thing about these lines is that it compliments various guitar types as well as playing styles. It has plain strings, wound strings and core wire. Plain strings secure the wire preventing slippage and ensures its long life. Wound strings provide superior intonation and consistency to the sound. The core wire provides excellent durability of the strings.
---
Savarez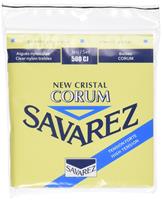 Savarez guitar strings have an alliance series that offer different types of guitar strings. The strings have normal to high tension depending upon their serial number. They differ in gauge radius and their composition. People find these guitar strings as brilliant and resonant. They bass produced during a live performance in acoustic guitars are bright and full. One problem that people face with these guitars is that the trebles are very slippery, and the standard knot at the bridge tie block sometimes slips while playing. To solve this problem, we recommend that you must match trebles at the bridge with a double loop followed by the customary knot looped at least three times in the roller. As per their quality, they have a decent life and maintain a consistent sound throughout. The tuning and durability of the strings will never wither away, but you may face problems in the dullness of the sound after a month. If you are a beginner and you want to learn and practice guitar, then these strings are ideal for you because these strings have a healthy tension which makes fretting quickly with proper tuning of the sound.
---
Martin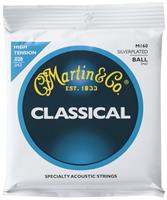 Martin guitar strings are most recommended guitar string for Acoustic music,lead rock, blues, and folk styles. It has quality features that are designed to repel the oils and dirt that can deaden strings. These strings have conquered the strings market and are heading on to the next level in studio performance. You must know the fact that coated strings, like the Martin strings, tend to be less "bright" when you first play them but have a remarkably long lifespan before sounding dull and dead as compared to other non-coated strings. You must also keep in mind that the lighter the gauge, the less is the volume. Lesser the volume lesser is the punch the strings are going to have, no matter what kind of guitar you play. People believe that these strings bring out the best in acoustic guitars. Some people have been using this guitar string from 25 years and yet have not experienced any dullness in the sound or deadening of the strings. After many years of use, the strings are holding their tone well and show no sign of discoloration. The extended life and the improved feel with the action make these strings worth the price people pay.
---
Conclusion
Whether you are a beginner or a pro guitarist, choosing a right guitar string is very important. If you are looking for some replacements, then you'll always benefit from trying something different. The way engineering, construction methods, and the material are used in the making of string; they can completely change the way a string performs and sound.Don't just stick to the old strings because the older they get the worst they sound.
We believe that you must stop using one set of guitar strings forever. Instead, you must keep on trying different types of strings. We never know which one will provide the perfect feel and resonance. Read the reviews and choose the one you believe will best suit the rhythm of your guitar. The string construction is a key component which determines the way a guitar performs. Choose strings that provide a smoother feel and reduced finger noise. Moreover never forget to pay heed to the materials that have been used in the manufacturing of strings as they also have a dramatic impact on the tone, feel and the long life. There are times when people don't get satisfied with the strings from a branded company. It is because not every branded company's string may suit your guitar and playing style. In the start you may feel hard to fret the strings, but when you play a great string, you just know that it's great. The factors such as the type of guitar you play, your preferences for ease of playing and the sound you want to create plays an important role in choosing the right guitar strings for your instrument. Moreover, we advise you to talk with your guitar trainer or an employee in the store so as to assist you in making a better choice as they have a vast experience.