Many guitarists are now using the tremolo pedals to produce something different and impressive. A tremolo pedal is a unique tool that takes guitar's original sound and modulates it. This pedal alters the volume of the sound loud and soft time and again and that's how you get the tremolo effect. It is up to you that what kind of tremolo effect you want to produce from the pedal. It can be very soft or extreme. It mainly depends on the requirement of your track. You can produce extreme tremolo effects in which the guitar's sound will seem like staccato effect. You can keep it subtle to get a soft and melodious output.
Top 10 Best Tremolo Pedals
Buying the best tremolo pedal
You can choose from a wide range of tremolo pedals. Many brands are producing this tool and therefore the selection of the best tremolo pedal can become quite difficult for you. Do not worry about the selection and follow below given guide to buy the best tremolo pedal.
Consider the size and build quality:
The tremolo pedal and other guitar pedals are not too cost-effective devices. You may need to spend over $100 on a high-quality pedal. So, it is important to check the build quality. It should be durable enough to work smoothly, when you smash it harshly with your foot. Check the size and durability before purchasing the pedal so that you can ensure that you have bought a right device.
The tremolo pedals oscillate the amplitude of the guitar's sound high and low frequently at a predefined tempo. You may like to change the tempo to get better effects and that's why you may need the tap tempo feature in the tremolo pedal. This feature allows you to tap a few beats with your hand and improve the BPM on the fly.
Volume drop is an issue with some tremolo pedals. Some pedals drop the volume as you switch them on. It can affect the quality of the sound and the effects would not be pleasing. So, make sure that you are choosing a pedal that does not cause the volume drop issue.
The standard tremolo pedals modulate the guitar sound by following the shape of a waveform. You can find the tremolo pedals with different waveforms. You can choose a tremolo pedal that has some basic waveforms or you can search for a pedal that is more complex and fully featured.
First check the reviews and then buy the pedal:
If you are a new guitarist and you don't have much knowledge about the things to consider before buying a tremolo pedal, then you should check the reviews. You can get all the details regarding the top rated tremolo pedals in the reviews. Thus, it would be pretty simple for you to pick the best tremolo pedal. We have reviewed top 10 tremolo pedals to help you in buying the best. Check the reviews and then decide which the best tremolo pedal is for you.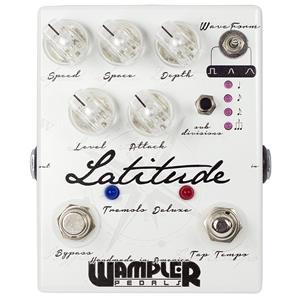 | | |
| --- | --- |
| Build Quality: | |
| Features: | |
| Sound Quality: | |
| Value: | |
| Average: | |
Check Price
The professional guitarists are not the ones, who need just one trem tone, they want something better. The Wampler Latitude Tremolo Deluxe that tool, which every professional need. It is not used to produce only the traditional trem, but it is used to get something special. You can choose from three different waveforms. You can choose the note subdivision or apply the tap tempo and get the special effect, you were planning to get from the tremolo pedal. It comes with top grade film capacitors and resistors to produce superior sound.
It comes with a unique space control, better depth and attack. Therefore, you would like to spend hours by dialing in and geeking out. The Wampler Latitude Tremolo Deluxe is handmade in the USA. It is a durable and reliable tool that can improve the quality of your music.
---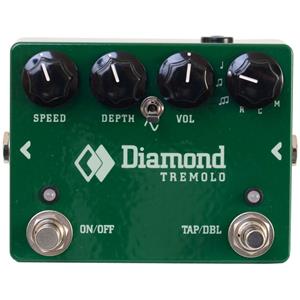 | | |
| --- | --- |
| Build Quality: | |
| Features: | |
| Sound Quality: | |
| Value: | |
| Average: | |
Check Price
The latest Diamond Pedals Tremolo is available online now. It offers a microprocessor unit along with an all analog signal path. You get optimum flexibility and control without turning the signal to digital. It works on a variable resistance circuit, which is based on Vactrol Opto-isolator. Do not hesitate in ensuring your band about the helicopter chops and gun staccato because Diamond Pedals Tremolo offers a JFET based chop circuit to produce these effects. You get all the basic controls in this pedal like depth, speed, and a waveform switch. You get 4 waveforms in this pedal like sine, square, triangle, and chop.
The color of the LED will change with the type of waveform you set to produce the effect. You get a volume control switch in this pedal so that it can match the level of your amp. Of course, it is equipped with the tap tempo feature and that's why it is a great choice.
---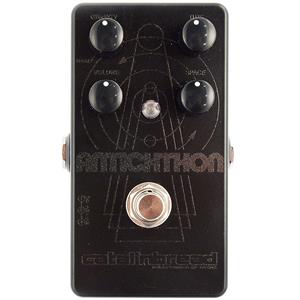 | | |
| --- | --- |
| Build Quality: | |
| Features: | |
| Sound Quality: | |
| Value: | |
| Average: | |
Check Price
There was a notion in the ancient Greek that there is a counter-world of the real world. It means there is another earth, beyond the sun and that is called Antichthon. The Catalinbread Antichthon explains that counter world by its trem. Catalinbread asks you to explore the music that may seem out of our world. The simplest way of doing that is using the Antichthon tone-generating tremolo. There are no knobs on the pedal to control the Antichthon. You can control it by the volume knob on your guitar and that's why it functions in a unique way. You can operate this tremolo in three different modes and create some unique trems.
---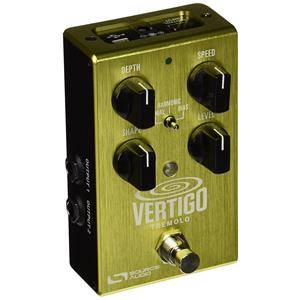 | | |
| --- | --- |
| Build Quality: | |
| Features: | |
| Sound Quality: | |
| Value: | |
| Average: | |
Check Price
If you are looking for a tremolo pedal that can whirl your guitar's sound around the room by producing an amazing tremolo effect, you need the Source Audio SA234 Vertigo. It is famous for its dizzying stereo tremolo effect. You get three switchable modes in this tremolo pedal. These modes can produce different vintage amp trem emulations. You can get effects from blatant Blackface to Tweed tremolo. You create three styles' tremolo effects like Harmonic Tremolo, Opto Tremolo, and Bias Tremolo. You can get the Neuro Mobile App in your smartphone to get additional hybrid modulation effects in your music. The editing would be simple and your music will get better.
---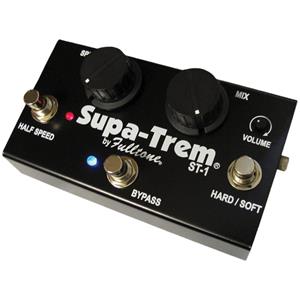 | | |
| --- | --- |
| Build Quality: | |
| Features: | |
| Sound Quality: | |
| Value: | |
| Average: | |
Check Price
Now producing a versatile and great sounding tremolo would be a very simple task for you, if the Fulltone Supa-Trem ST-1 is connected with your guitar. This tremolo pedal applies a custom-designed fast-recovery photocell to devotedly imitate the trem circuits from 60s-era tube amps. There would be no ticking sounds, which continuously go with these trem circuits to produce a cleaner effect. If you don't want the warble, this tremolo pedal will work as a clean boost pedal. So, it should not be too difficult for you to produce the vintage style tremolo tones. You can get the ST-1 and make this job pretty simple.
---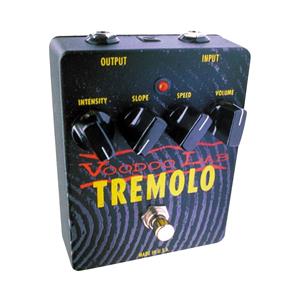 | | |
| --- | --- |
| Build Quality: | |
| Features: | |
| Sound Quality: | |
| Value: | |
| Average: | |
Check Price
If you are planning to add some buttery and seductive tones of a vintage tube amp tremolo to your tracks, you should use the Voodoo Lab Tremolo. It applies the lamp and photocell assembly like some other famous vintage amps to produce these sound effects. This pedal also offers a slope control that allows you to manage the feel of the trem from a normal soothing tremolo to a hard machine-gun shutter. There are Speed and Intensity controls that expand your reach to very slow and deep sounds. You can easily cut or boost the output level through the volume control and now you would be able to include some impressive trem vibes to any amp through the Voodo Lab Tremolo.
---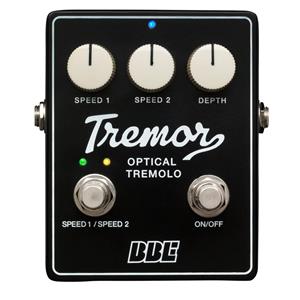 | | |
| --- | --- |
| Build Quality: | |
| Features: | |
| Sound Quality: | |
| Value: | |
| Average: | |
Check Price
The professional guitarists would understand it better that how it feels, when they get classic Fender-style tremolo in a pedal. BBE has done it and people should thank to Paul Gagon, the former R&D Engineer at Fender, who has created this impressive tremolo pedal. With the help of Paul, BBE has succeeded in recreating Leo's finest amp tremolo. This pedal also provides you with dual feet-switchable sped controls so that you can get better versatility, when performing live. This new pedal from BBE comes with a new back look and its white graphics on a matte black finish seem simply amazing. So, don't wait anymore and get it now, if you want that classic Fender-style tremolo for your tracks.
---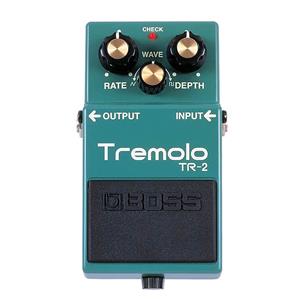 | | |
| --- | --- |
| Build Quality: | |
| Features: | |
| Sound Quality: | |
| Value: | |
| Average: | |
Check Price
Boss is probably the most renowned brand in the musical world. It produces cutting-edge sound systems, musical devices, and high-quality pedals for musicians. The Boss Audio TR2 is a tremolo pedal that can generate high-quality vintage trems. It is a high-performance and compact size pedal. You get separate knobs to control the Depth, Wave, and Rate. It means, this tremolo pedal will easily deliver a broad range of possible styles and effects. The high-speed adjustment would be easy and effects would be quite strong.
---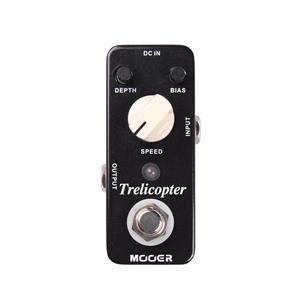 | | |
| --- | --- |
| Build Quality: | |
| Features: | |
| Sound Quality: | |
| Value: | |
| Average: | |
Check Price
You may think this small size Mooer Trelicopter would not meet my demands of generating vintage Fender-style amp effects, but don't go on the size. It is as good as any other tremolo pedal listed in this article. It comes with bias controls and produces non symmetrical waveform. You get control knobs for speed and depth that allow you to control the sound effects easily. Its size is quite small, so you can easily carry it with you, wherever you go to perform.
---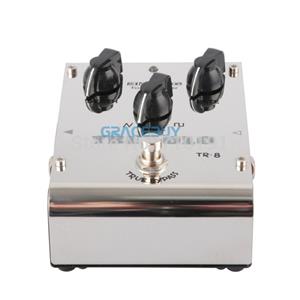 | | |
| --- | --- |
| Build Quality: | |
| Features: | |
| Sound Quality: | |
| Value: | |
| Average: | |
Check Price
People sometimes get amazed by finding an unpopular brand in the top ten lists. You may also feeling the same thing, but Biyang TR-8 is not a bad choice. It is actually a great choice. It has a solid metal body, three knobs to control wave shape, depth, and speed. The LEDs illuminates as the effects are produced. It is probably one of the least complicated tremolo pedals that you would like to buy to produce impressive trems every time. Its sound quality will surprise you and you would be able to produce any desired effect by manipulating the settings. So, consider it if you don't want to spend a large amount on your new tremolo Pedal.
---