To ordinary people, a simple look at guitar will mean a guitar as a piece of wood, but for a music lover, a guitar is something which has the power to transform the sound produced by an instrument. Guitar picks are also known as plectrums, and they come in a variety of sizes ranging from as small as a fingertip to 2 inches wide. Guitar picks have a dramatic impact on the overall tone. Smaller picks when comes into contact with the guitar strings produce a warmer tone. On the other hand, larger picks are easier to grasp and even makes fretting easier by preventing the fingers from brushing the strings. You must know that not all types of picks suit all types of guitars. Instead, there are different types of picks for playing Rock, Electric Guitar, and even for acoustic.  Remember, a guitar pick is equivalent to a violin player's bow so don't hesitate to spend money on it. If you are a music lover and fond of playing the guitar, you must have a review of some of the best guitar picks before buying them.
Top 5 Best Guitar Picks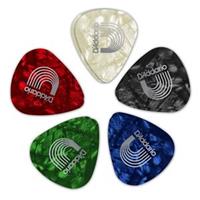 Planet Waves Assorted guitar picks comes in the size of standard, wide, jazz and packs of 10, 25 and 100 when you go for online shopping. The quality of material used in the manufacturing is premium quality celluloid that provides a fat tone and naturally warm and feels. The picks have a medium gauge of about 70mm. This medium size is ideal for both strumming and articulate picking.  The standard pick shape is perfect for picking or strumming. The standard shape has a wide area to provide a firm grip and has a more defined tip for good note articulation while fretting. The wide pick offers multiple picking areas as the player rotates the pick as one edge begins to distort. Jazz picks are small sized and have a sharp tip for a faster and brighter tone. Progressive rock, metal guitarists and jazz players prefer jazz picks.  They have a reasonable price and are comfortable in hand providing a right degree of flexibility to enhance the picking pleasure.  The picks have a smooth surface and are not slippery. Remember, just because something is cheap doesn't mean it is crap and just because something is expensive doesn't mean it's the best. Check Price
---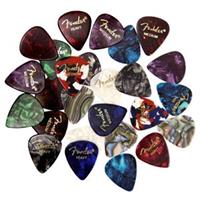 Fender Premium Picks Sampler is also made up of celluloid material which is one of the most recommended materials for guitar picks. Celluloid picks have a smooth striking surface that supplies a traditional feel and warm with a round musical tone. The picks offer a warm, round music tone and are the only choice of many professional artists. It comes with a range of gauge sizes: Thin, Medium, and Heavy. You can try the mix and match of various sizes of gauges to find the perfect fit for your instrument. The colours are vibrant and bright which makes the product even a better choice. The only complaint some people make about these picks is that the lettering on the picks fade quite quickly so it may become a problem for someone looking for their preferred thickness. People find the guitar picks long lasting and of premium quality which is an ultimate choice considering the reasonable price. Check Price
---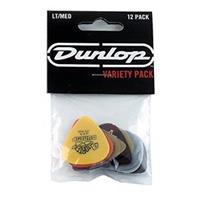 Dunlop guitar picks are a worldwide industry leader in quality, design, and innovation of guitar pick. The picks come in a variety of shapes, materials and textures. These are best-suited picks for experienced as well as beginner guitar players offering them Thin/Medium or Medium/Heavy Player's Packs that contain 12 picks each. They provide a perfect grip for fretting. They also offer a better grip as compared to celluloid picks. The pick you use can have a huge impact on your sound and even style of playing. People believe that these picks represent a good selection or a new player, or someone who wants to experiment with new sounds. For such a reasonable price, this pick sampler is well worth your money. This pack makes it cheaper for players to try out various styles without having to buy full packs of each type which is great.  Some people find it too stiff and too thin for fretting. Whether you are a pro guitarist or just a learner, when you buy Dunlop picks you to know you are getting the best. Most of the reviews of these guitar picks are positive, and people are satisfied making a right choice. Check Price
---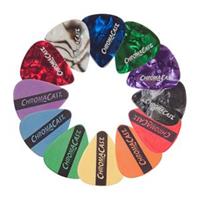 ChromaCast guitar picks have a classic shape with a wide body and rounded tip. It offers different colours based on their gauge sizes.  These picks are a blend of both the Celluloid and Dura Picks. These have a wide body and a rounded tip that prevents chipping and provides a warm, fat musical tone. Depending on the style of play, each player can find the perfect fit from a wide variety of gauges that are available. The picks work well with all the types of guitar players:  acoustic, electric, aggressive or Sublime. These are an excellent and inexpensive set of guitar plectrums. These picks are harder-wearing as well as the ultimate choice if you wish to find the particular tone you're happy with. In case you are wondering, these picks are labelled with the respective thickness in, millimeters which is quite useful for finding the right one while playing? This set is perfect for a beginner who looks for an array of picks at a decent price. Check Price
---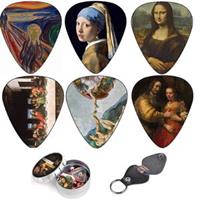 Cool Guitar Picks are available for men, women and teens Guitarist offering feels like having an Art Museum in the palm of your hand. It has a specially designed metal click clack box that fits into the pocket or a guitar case. It prevents losing guitar picks and makes sure that you don't need to buy a pack soon. To use the box, you can push down the middle to open and squeeze the sides to close. The holder, the leather pick holder and the guitar picks are of high quality. People gift these guitars pick to their beloved ones on Christmas, birthdays and anniversaries. They became quite satisfied making an ideal choice. If you want different guitar picks, then go for these as these picks look like pieces of art. The picks have exotic prints and subtle decoration to have people eye stumble upon. Some people don't find them of high quality. Check Price
---
Conclusion
Lots of good players use their fingers to play the guitar, and it is not very important to play with a guitar pick. But if you are a beginner who is learning different styles then you surely must make use of a good guitar pick. There are a few styles; bluegrass flat-picking and metal shredding that do require a pick for delivering a perfect tone. You must not pick up bad techniques starting with the use of fingers of fretting because they are much harder to unlearn. You must use guitar picks and start with right techniques even if you find it a little harder at first. There is no difficulty in learning plectrum techniques as they are as easy as learning left-hand techniques.
For playing impressive sounds, we suggest you practice with guitar picks only. Synthetics like nylon and polycarbonate extensively used in the manufacturing of guitar picks are banned in some countries. The best materials are celluloid and acetal Delrin. The picks made of these materials are durable, sturdy and lightweight. They produce a well-rounded warm tone and are very less prone to picking up noise. The other thing that matters is the Pick Texture.  People typically opt for a slick and smooth texture.
Grind surface increases the grip and firmness of the pick and prevents slippage from sweaty fingers while playing. We advise you to experiment with some guitar picks if you don't know about your sound yet to find the perfect one for you. Moreover, while playing the guitar, do not just rush into things; take the time to think what tone or sound you want to achieve.  If you are stuck up for inspiration, then changing you guitar picks might do some help. We know that selecting a right guitar pick is a bit overwhelming when so many options are available. But make a list of pros and cons and read the reviews thoroughly to take a wise decision.