A volume pedal is used to modulate the volume. It is a pretty simple device that all the guitarists need to gain a better control over volume output. You may think buying a volume pedal would not be as tricky as the tremolo pedal, looper pedal, or delay pedal because the volume pedals do not add any sort of effect in the output sound.
Things are quite different in reality because a huge variety of the volume pedals and different terms can confuse any newbie guitarist. The Active, Passive, Potentiometer, High impedance, Low impedance, buffer, signal chain, tone suck, optical, mechanical, etc. these are a few names that may confuse you while buying the volume pedal. Therefore, you should follow the below explained guide to choose a perfect pedal according to your requirements as a guitarist. We have reviewed the best available volume pedals to reduce your search to the top rated volume pedals. You can check these reviews to pick the best one now.
Top 10 Best Volume Pedals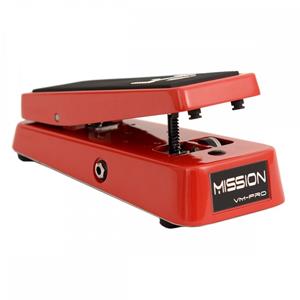 | | |
| --- | --- |
| Build Quality: | |
| Features: | |
| Sound Quality: | |
| Value: | |
| Average: | |
Check Price
Do not make a mistake of considering it a normal volume pedal, it is a multi-output, tweakable, buffered volume pedal that you can buy and use immediately. You can fix it on the starting point of the signal chain. It would work effectively with the electric, acoustic-electric, and bass guitars. You can easily set it for active and passive instruments. The frequency response would be amazing and there would be minimum tone loss. It does not matter that what sort of rig you are running, the VM-Pro volume pedal will meet your demands easily.
---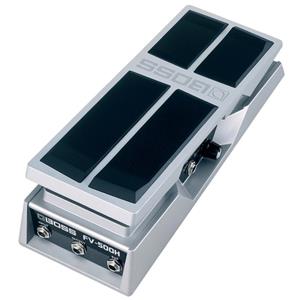 | | |
| --- | --- |
| Build Quality: | |
| Features: | |
| Sound Quality: | |
| Value: | |
| Average: | |
Check Price
Boss is one of the most reputable brands of the musical tools. Its FV-300 ruled the market for more than 14 years and now you have the Boss FV-500H. The FV-50 series has gained a huge response from the guitarists, but now the FV-500H is ready to offer a completely new experience. You can get it as a high-impedance pedal or as a low-impedance pedal. These are quite robust pedals that can handle any sort of abuse. Boss has introduced this new pedal in a completely new stylish design. It works smoothly and its road-tough build makes it perfect for all the guitarists. You can get it with an expression output to use the pedal with expression-compatible amps, synthesizers, and effects.  Boss is a reputable brand and it is providing the best volume pedals, which are Boss FV-500H and FV-500L.
---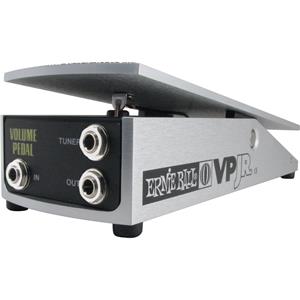 | | |
| --- | --- |
| Build Quality: | |
| Features: | |
| Sound Quality: | |
| Value: | |
| Average: | |
Check Price
Do not get confused because it is a volume pedal from Ernie Ball that comes with 250k ohm resistance, which is perfect for the audio path of passive instruments. There is a micro taper switch behind the jack area that offers you two distinct volume swell rates. All you need to do is plug in this volume pedal and recognize how expressively you can play the guitar. You can easily get the pedal steel-style swells in your performances through this tool. You will have to maintain a right volume of your guitar to play music of the different parts of the track. It works pretty smoothly and it is probably one of the best volume pedals for passive instruments.
---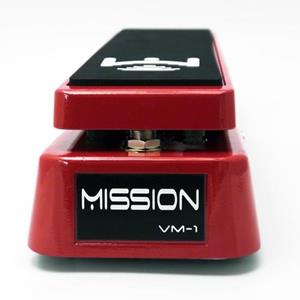 | | |
| --- | --- |
| Build Quality: | |
| Features: | |
| Sound Quality: | |
| Value: | |
| Average: | |
Check Price
It is an impressive volume pedal that looks quite stylish as the LED base illuminates with the tap. You can choose from three different LED colors and use this pedal with your guitar or keyboard. The keyboard players would find this volume pedal quite natural to play by sitting down because it has curved heel position. It comes with point-to-point wiring and a fully isolated tuner output that prevents the tone loss issue. This volume pedal will serve you for several years because the manufacturer guarantees for one million operations without any trouble. The Mission Engineering VM-1 Aero is simply a reliable and stylish volume pedal that every guitarist and keyboard player needs. You can get it online now.
---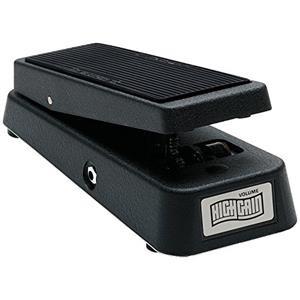 | | |
| --- | --- |
| Build Quality: | |
| Features: | |
| Sound Quality: | |
| Value: | |
| Average: | |
Check Price
The Dunlop GCB80 is a stylish passive volume pedal that offers dynamic control. It is an ideal tool for a wide range of volume-control applications. Its heavy die cast housing build improves its durability. You get it with an assurance of one million tap cycle and you don't need any external power source or battery to run it. Its quiet operation will impress you, when you will use it roughly and it won't show any malfunction. It can improve your performance, whether you are playing the guitar or keyboard live or in the studio. Impressive performance, smooth action, guaranteed one million cycles of taping, and dynamic controls, you get all of these features in this volume pedal. You can get it at a very reasonable price and buying it would not be a bad idea.
---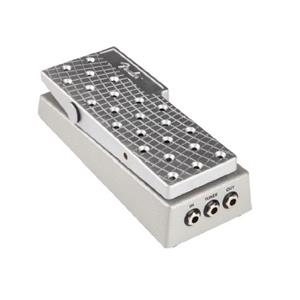 | | |
| --- | --- |
| Build Quality: | |
| Features: | |
| Sound Quality: | |
| Value: | |
| Average: | |
Check Price
If you are looking for a volume pedal that has a complete metal design and nothing else, than the Fender FVP-1 is what you need. It is quite a durable pedal that offers impressive volume control. It is not an expensive pedal like some other mentions in this list. It is a passive volume pedal that comes with tuner out jack for a comfortable tuning during the live performance. It has a special tone circuit that maintains an impressive tone and prevents the tone loss problem. By considering all these features you can say that Fender FVP-1 is a perfect choice for you.
---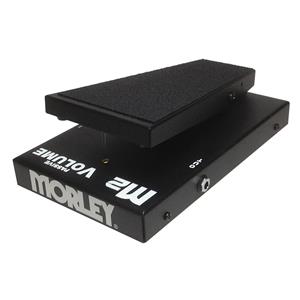 | | |
| --- | --- |
| Build Quality: | |
| Features: | |
| Sound Quality: | |
| Value: | |
| Average: | |
Check Price
It is a volume pedal that comes with a linear taper. This volume pedal is simply amazing for bass and guitar. The Steve Vai Little Alligator assures you for an amazing performance, when you apply it in the effects loop and also in front of the amp input. This volume pedal comes with a minimum volume knob that offers the user a smooth transition among the rhythm and lead volumes. If you are searching for a volume pedal with excellent control of the volume during the live performance, prefer the Morley Steve Vai Little Alligator pedal.
---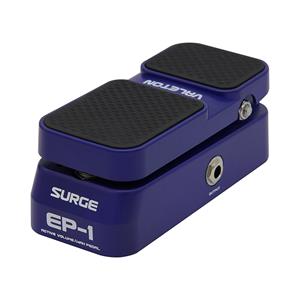 | | |
| --- | --- |
| Build Quality: | |
| Features: | |
| Sound Quality: | |
| Value: | |
| Average: | |
Check Price
The Valeton EP-1 Active has quite an elegant design and it is quite compact in size. Its kirsite lightweight case offers it a charming look. You can use it as both wah and volume pedals. It is an impressive choice to produce the vintage Wah tone. There are two LED lights in this pedal that leads you to an easy operation. Switching the modes would be pretty simple with the footswitch. The input impedance is 1M Ohms and the output impedance is 100 Ohms. It works on a 9V DC battery and makes the volume control an easy task for you during the performance.
---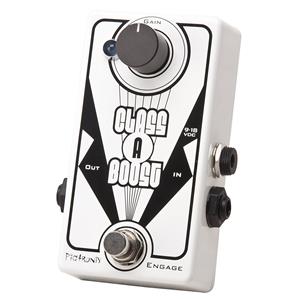 | | |
| --- | --- |
| Build Quality: | |
| Features: | |
| Sound Quality: | |
| Value: | |
| Average: | |
Check Price
The Pigtronix BST is not a very popular volume pedal, but it does not mean it is a bad choice. You don't find it similar to all the other volume pedals in this list. It offers a knob to control gain and an LED at the top that indicates the operation of this volume pedal. It is equipped with the J-FET instrument pre-amp and it can offer around 20db of clean boost. This volume pedal is powered by Pigtronix 18V power supply and it can be a great choice as an affordable volume pedal.
---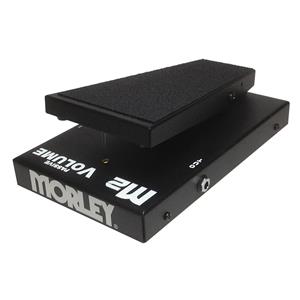 | | |
| --- | --- |
| Build Quality: | |
| Features: | |
| Sound Quality: | |
| Value: | |
| Average: | |
Check Price
Those, who like to use comprehensive volume swells during the performance, the Morley M2 Passive volume pedal is a right choice for them. It will do the job quite nicely and you will enjoy taping it. You can use it anytime, whether you are sitting or standing with your guitar. There will be no tone loss and this pedal will not add any sort of character to the original sound created by your guitar. Therefore, it is an excellent device that you should buy to improve your performance.
---
Things to check before buying the volume pedal:
A volume pedal looks pretty simple, but it can be a complicated piece of your guitar tools. You can get a very long list of the volume pedals in online search. That list is enough to confuse you and therefore we have prepared this guide to help you in making a right choice. Check the below given things before buying the volume pedal to pick the best out of all the available volume pedals.
A top quality volume pedal would be transparent. It means, the volume pedal would not add any of its own character to the original sound produced from your guitar setup. It is true that some volume pedals add unwanted characters to the original sound and that's how they reduce the quality of music. Check the user reviews and try to find any review in which the user has mentioned about sound transparency. If it performs well, you will not find any of such comment.
Tone loss is a common issue with many volume pedals. The beginners may get some suggestions for the best volume pedals. Some of those pedals may also suffer with the tone loss issue. According to the experts, a weak signal of the guitar can get split into two if the volume pedal is used for a dedicated tuner output. The tone suck problem is common with many volume pedals. Make sure that your chosen volume pedal does not cause such a trouble.
You get two types' volume pedals in the market. You can choose the passive volume pedal that does not require any power. However, it would be very sensitive and you will have to set it carefully in the signal chain. The active volume pedal is not that sensitive and it requires power to operate smoothly.
It is something that you must check before buying any guitar pedal. The volume pedal must be durable and capable of handling some abuse. You may use it roughly while playing the guitar. It should not cause any problem due to the rough use.