Musicians, no matter in which part of the world do they live, they have a craving for musical instruments that fit their music and style. A guitarist does need a guitar case to protect his guitar from unwanted corrosion or damage. Even while travelling it is difficult for a guitarist to part from his guitar, so it is better to have a good guitar case for protection. If you are planning to just roam around the city, then a gig bag would be sufficient. Gig bags don't provide extensive protection but can provide it with a cushion from scrapes and light bangs. Hard shell cases provide more protection and are a true method of guitar storage and safe travel. These cases are manufactured out of wood, plastic or metal hardware with a fabric coating over them. A hard shell case protects a guitar from ups and downs incurred while travelling on the road. If you are taking a flight and checking out the guitar as baggage, then flight cases are the ultimate choice. Flight cases are expensive and heavy which make them a less preferred choice. Have a look on some of the guitar cases and their reviews which will assist you in making a better choice:
Top 5 Best Guitar Cases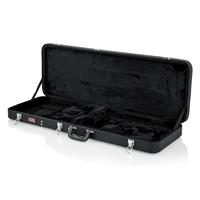 Gator GWE-ELEC comes in various styles such as 335 semis hollow, bass, electric, extreme, jaguar, Thunderbird bass and Les Paul. These styles have Tolex PVC covering to prevent it from corrosion, external distortion, damages, dings, and bumps that can occur between gigs. This series of guitar cases are a great combination of quality as well as affordability.  Moreover, these series have standard locking latches that provide extra security. The stylish contrast stitching over the guitar cases gives them a traditional look and feel. People who use them find them sturdy and quite fitting to the instrument. The cases of such good material keep the guitar from getting dented or damaged while transporting to and from gigs or rehearsals. Moreover, the price is economical that people don't need to make changes to their budget. The products in this series have a wide range of size, construction material and levels of protections for different types of guitars. Check Price
---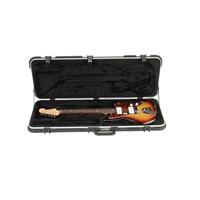 SKB Jaguar/Jazzmaster is a hardshell case that protects guitars having six strings only. The lock latching system for security is made up of Fibreglass reinforced nylon featuring trigger release. For provisioning valance protection these cases are engineered with molded-in bumpers. This case can meet maximum restrictions on cargo baggage for airlines. It is of standard size and is not fit for Jag sized instruments. Consider the manufacturer specs such as interior length, exterior length, interior depth, exterior depth, instrument body length, Instrument Body Depth, Instrument Lower Bout, Instrument Upper Bout, Carton Length, width and height to assist you in making a choice.  People who have used this case believe that this case is very rugged and great build quality. They find the curves in the case perfect. The latches are sturdy and don't open up accidentally. The handle is tough, very solidly attached and as a comfortable grip. Check Price
---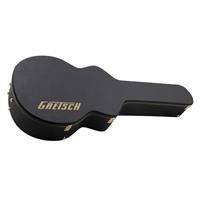 Gretsch G6241FT is also a hardshell case which is specifically designed e for 16″ Gretsch hollow body guitars. It is made up of solid wood so as to offer vital protection to your precious guitar. The case has a grey, fur-like interior that protects the guitar's finish from being scratched. It features flat surfaces that are covered in Tolex. The hardshell seems to be of high quality constructed from some of the finest material and craftsmanship. Like most wooden, heavy duty and rugged hard shell cases it also provides solid protection to the guitar. The cases rights from the factory have a strong chemical smell that comes from the interiors, probably due to the glue. Leaving the case open for some time can solve the problem easily. The best thing about the case is that it has a nice storage space inside to fit a tuner, picks, cords, and capo. Check Price
---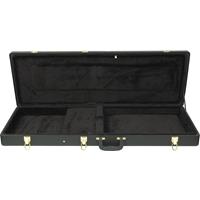 Musician's Gear gig hardshell case has foam padding inside it that absorbs the bumps of normal handling while travelling.  of the case, eEdges and handles are made of thick parachute webbing to ensure extra strength and durability of the case.. It is made up of wood with gold plated steel hardware featuring plush lining and moulded plastic handle. The clasps are tight, and one lock is present to ensure safety. It has a tough textured vinyl surface to guard the case of external distortion. As long as you would not handle the case as a lumpy child, this case will be fine to carry your guitar inside it. People have issues with the storage space inside the case. They believe that the fit is not quite as snug as mentioned and can fit only one pedal. They are quite satisfied with the stitching of external and internal hardware. They believe that this product has an astonishing price and seems to be a fine choice. Check Price
---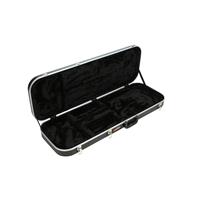 SKB Rectangular Hardshell cases come in different styles depending on their size, quality of material used and the features they provide. Its exterior shell is made up of Rugged ABS and has fibreglass reinforced large nylon trigger release latches locks to ensure the security. This product provides full Neck Support and Deluxe Plush Protection on all the sides. Vacuum formed of durable, lightweight ABS plastic is used to add up strength and durability. The cushion grip handle has a comfortable rubber moulded over to for balanced transport.  It is lighter in weight and is best suited for travelling purposes. The case has moulded "bumpers" along the edges to provide extra protection against the bumps while travelling. This product is an excellent value for money and proves to be outstanding when it comes to protecting the guitar. The case is made up of excellent quality and has a long life if handled with proper care. Check Price
---
Conclusion
You must know that it is not only the brand of the case that matters in choosing a right one; instead, the dimensions of your guitar must correspond to that of the case. Gather the measurements of your guitar precisely and compare them with the product model. You must measure overall length, neck to end of headstock length, body depth, lower bout (widest part of the body below waist) width, upper bout (largest part of the body above the waist) width and waist (narrowest part of the body) width. You must try to choose a case for snug fit because an ill-fitting case will allow your guitar to shift around that will likely cause damage.
Don't forget to check the materials that are used in the manufacturing of the guitar case that you opt for. The materials employed in the construction play the key role in the protection of guitar from outer bumps. Moreover, the guitar case must come with a lock and key so as to secure your guitar from theft or unwanted use while you are busy somewhere else. If you are truly a music lover and want to protect your expensive guitar, then don't pre-empt from making a good investment in buying a case. Research about various product models, their features and quality. Make a list of pros and cons of different product models of a guitar case and then compare them so as to make a wise decision. If you are stuck in choosing between two guitar cases, then opt for the one that suits your requirements. Don't spend beyond your budget if you don't need the extra features that many models provide. We know that making an ideal choice is hard when so many options are available to you but if you know what to look for it'll be much simpler and easier to make the right purchasing decision.