As the name suggests, it is an essential part of the guitar that helps in bringing the bass out. While buying a guitar, these bass strings are already attached in the guitars. But many people like to customize their guitar according to their taste, or in many cases, it may happen that the string breaks after playing an instrument for a long period and eventually one have to replace it. These bass strings influence the tone and playability very much. But before buying these strings, one should understand every aspect of these bass strings. One should also keep changing these strings even if they're not broken. With the time they start to rust and give out the dead-flat tone which may harm one's fret and pickup. Many bands and musicians never change these bass strings for they like the 'thunk' effect it produces,but nickel strings can also give the same effect, and this is why there is no absolute reason for not changing your guitar's bass string.
Top 5 Best Bass Guitar Strings
After changing the strings of the guitar, while playing it, one can realize the bright effect it produces in the quality of play. One can notice the 'clarity' missing from the music that these new more lively string provides.
To choose the right strings, one must keep few points in mind. Know the number of strings your instrument needs along with the scale length of bass and know what type you want depending on the style and genre you play for. Bass strings differ for every genre and for a musician who is highly concerned about his or her genre and style, should understand what type will be the best to produce the much better effect and music before any gig or audience. Also with this keep note of the character of sound and tone that is to be achieved. All these factors are important while buying these strings for guitar.
Another thing to understand while selecting is the right string length. These lengths are the measurements from the bridge saddles to the nut at the end of the fret board. The most common designations are short, medium, extra-long, long, and super long. One can also visit the manufacturer's site to know the length of length between the nut and fretboard. However, one can also adjust the strings by cutting them to the proper length but it can also affect the tone of your strings, and they may produce a dead sound if the procedure is not done right. This is why it is more advised to buy these wires of the correct scale length to avoid these troubles.
While choosing these wires, the materials also play important roles. There are many materials of which these strings are made of such as Nickel plated steel, which is one of the most popular types. The feel is very comfortable, and the tone is very bright which is opted by many bassists in the music industry. The other is Pure Nickel with less magnetic attraction than those made of steel. The pure nickel produces more vintage and warm tone. Another is stainless steel; the string material creates a highly bright tone with excellent corrosion resistance according to musicians.
Copper-plated steel is also variedly used string material. The thin copper coating produces the rich acoustic rhythm while playing the guitar. In polymer coated strings, many manufacturers use synthetic layer which increases the life of strings by protecting them from rust and corrosion. It also affects the tone and rhythm while playing. The last but not the least in this string list is a colour-coated string. The coated strings add extra drama to instruments and make them look more play-worthy. Because of the safety coating, the life extends more, and it also produces smooth tone while making music.
Bass strings are comparatively large than guitar strings, available in nickel and steel both, or it can be pure steel available. Here are few common terms to know about these bass strings.
Roundwound – the most common type, have ridges on the winding
Half Round – have been ground down to give a smoother feel, warm tone
Flatwound – reduce finger noise, are smooth to the touch, and have a warm, mellow sound
Tapewound – nylon outer wrap that gives you a shorter decay and more thud
These are the few terms to know if one goes out to shop these bass strings for their guitar. These are quite complicated and depend totally on the taste of the musician about what type of bass they prefer; it can be brighter, louder, and more bass or thud. Jazz, rock, mellow they all use a different kind of bass, and there are strings available for all these genres. There are also sonic differences that one can check while using both nickel and steel strings as there is the difference in the tone they both give as an output.
While buying these strings, one should know about gauge. Light gauge strings are easy on the fingers and fret both. It is important for new players to understand this or they may injure themselves or break the strings unknowingly. Moving up to heavy gauge strings need to compensate one's action and adjust according to the tension in strings.
To make one's choice easy while buying these best bass guitar strings, here are few of the best brands and details that one can purchase or look for. These mixed reviews about the type, quality, coating and tone will help to make the decision of buying best bass strings for guitars easier than using different sites and returning as a confused, lost soul. Here's the list!
Ernie Ball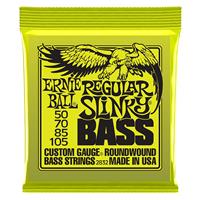 Ernie Ball is the world's leading manufacturer in the business of bass strings and accessories. Since 1962 they are in the business of making guitars and the strings which make them the best player here. Some of the world class players like Paul McCartney, Eric Clapton, Jimmy Page, Slash and Buddy Guy used Ernie's strings and guitars to play the most legendary music the world has ever witnessed. The company uses the best material and finest technology to create these instruments and parts to enhance the experience of the player and let them perform their best gig. The strings come packed in a small colorful flow wrap packet. It was founded by Ernie Ball during 60's which makes it more than 50 years old. The product is element shield which makes it as fresh as the first day. These strings compliments and work with all type of guitar without any trouble. Plain strings secure the wire, whereas wound strings provide best intonation and stability to the tone and the core one provide the best durability to all of the strings.
---
D'Addario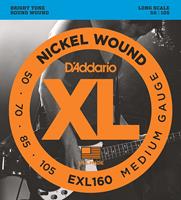 It is one of the most famous family owned businesses that produce the strings for guitar. The product it offers are accessories such as cables, earplugs, electronic tuners, drum heads, drumsticks all under their brand name. During the birth of Rock 'n' Roll, their guitars become most famous in various parts of the world. They expanded their business to steel strings and extras and became a top notch company and manufacturer of bass strings. These strings if bent farther will sing louder, brighter, and will stay in tune, more than the other strings in the market. These strings are now made with new technologies and are break resistant. High-Carbon steel core and plain steel alloy give a total new freedom and power to the musician, and they play it according to their comfort. These are also corrosion resistant wire which is brownie point. Also with higher magnetic properties, it gave better output and enhanced mid-range frequency for more crunch and pleasure to the player and listener.
---
Fender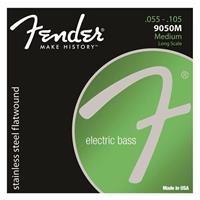 Fender provides items such as electric guitars, telecasters, amplifiers, bass strings and acoustic guitars. Started in 1946, Fender helped small bands to have best guitar and strings and produce the best music and not remain unheard under the big bands. These strings provide higher output and more dynamic tone. They have been committed to the quality and keep evaluating the quality of their products which makes them the most sought after product and brand in the market. The strings remain corrosion free and live a long life giving quality tone and crisp volume. Also, these strings are easily available out there in the market. The wire wrap up has 80% of Copper and 20% of Zinc which helps in providing a very bright tone. After a brief playing of the string, the Fender strings will break to give the best performance. It is a brand that Legend Kurt Cobain used while the rise of his band, so hopefully it will give you the same feel while holding it.
---
Rotosound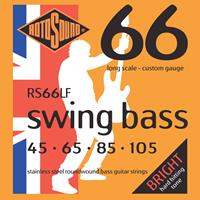 Rotosound has been creating these strings for more than 50 years. Some of the best products such as Swing Bass 66 and Roto strings are a part of proud history that rock music shares. These products are made from real high-quality material and the best technology by the hands of professionals who love what they do. Rotosound not only attracts the legendary musicians and bassists but also the best of new upcoming and starting players. The materials used are carefully formulated to pitch strain, breaking strain, amplitude, nodal sequence. These are some of the best features used while making these bass strings. The strings add to the precision bass more with a little growling effect which makes it one of the best options for rock music. These strings are relatively affordable and available online in case one needs it. Talking about Rotosound nickels, they have the piano like clarity to them which makes them more comfortable to play and best too. With a few tweaks here and there one can get that 'thunk' sound along with the vintage feels one need.
---
DR Strings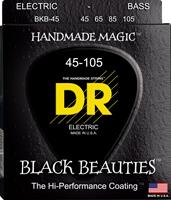 The DR Strings make the total vintage strings. While using, they take few days to stretch and give their best performance. The tension is less, and they play faster while keeping fingers and frets comfortable. Also, it is easier to bend which makes it more usable to every bit of worth. The coating on the strings make it last longer as it is done three times but it depends on the musician whether they prefer coated strings or not. However, because of the coating it may happen that the tone is not so much bright as the other ones in this list because this string is more on the dark and heavy side of the music. The volume they provide is quite comparable and nothing to feel disappointed about in general. Using this string on stage is the best idea than to use and waste it at home by only practicing. They are available online and are quite cheap.
---
Conclusion
Choosing a right string that provides the correct amount of bass in a flick is important. It is quite difficult to determine which brands make the best bass strings. But one should always try out every option before sticking to one, or it may happen that what you've been looking for is missing from what you're doing. The materials used, the way of construction are all different and on these factors depends how a string will deliver the music. It may happen that an individual brand will not give what you need because every brand has their particular way of producing and each company provides a certain style of music. No one knows which one, might provide the best bass string according to your needs. So always make sure to read reviews before opting for any such string. There are many blogs or sites that provide reviews for particular kind of strings and guitars, so it will be best to study about it and then invest. Remember that in the starting these strings have tension and it may take a little more effort for fingers or fret to work on them and because of this starting phase, judging a string or a brand is not a good option. However, along with trying on your own and doing a bit of research, it also the best option to ask from an expert or a trainer about these bass strings and consider their preferences. You may come across plenty of different reviews and perceptions, and it may happen that your choice is different from them all. That is why, don't be in a fret, sit, think, do research, ask people, use them all and then decide which one do you want to use in the long run. We hope this article helps in making the best decision for strings.