All the guitarists know how a looper pedal can improve their performance. It is a common instrument nowadays, but yet the beginners and trainee guitarist confuse that how to find the best looper pedal. Today you can get the digital looping pedals that will offer a wide range benefits. It does not matter that you are a crazy solo looping guitarist or a newbie. A good quality looper pedal can help anyone, who can play the guitar and create the music. It may take some time in learning how to use it to improve the performance. Once you have learned it, the looper pedal will improve your skills as a guitarist day-by-day and fill out your sound. You would become an important part of your musical group and your partners will require you for a magical performance.
Top 10 Best Looper Pedals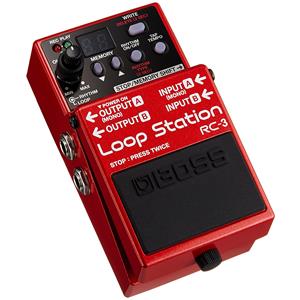 | | |
| --- | --- |
| Build Quality: | |
| Features: | |
| Sound Quality: | |
| Value: | |
| Average: | |
Check Price
Boss has produced several looper pedals till the date and the Boss RC-3 is another great single-pedal looper from this company. It is renowned for its stereo operations, high-powered digital single processing, and some other revolutionary features. This impressive pedal operates on the ESC2 chip and that's why it provides the guitarists excellent sounding recording and the live manipulation of loops in their recording studios. This pedal provides you almost 3 hours of onboard stereo recording, quality stereo inputs and outputs, and loop storage. There are 99 onboard memory slots on which you can store all the recently created sounds. It has a USB 2.0 port through which you can connect it to your laptop to swap and manage the WAV loops. All in all, it is a perfect choice as a high-quality looper pedal.
---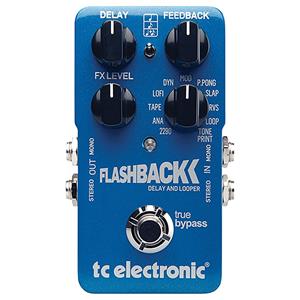 | | |
| --- | --- |
| Build Quality: | |
| Features: | |
| Sound Quality: | |
| Value: | |
| Average: | |
Check Price
The TC Electronic FlashBack Delay and Looper Guitar Effect pedal is a versatile device. It is compact and very useful in comparison to other options. It provides the users with 10 impressive delays and a 40-second looper. It is certainly a much improved variant of the ordinary delay pedals that provide you with only a few delay effects. You get the 40-second looper with never-ending sound-on-sound recording feature. You can apply the reverse setting through which you can create anything from the reverse loops, reverse flutter, and all-wet reverse guitar effects.
This looper pedal is one of the best in this list because of a 40-second looper, the TonePrint technique, 10+ delay effects, stereo input and output, switchable dry signal muting, and many other cutting-edge features.
---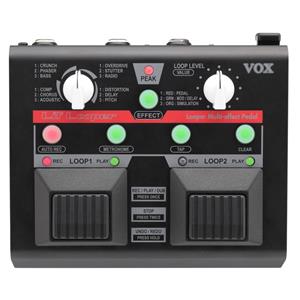 | | |
| --- | --- |
| Build Quality: | |
| Features: | |
| Sound Quality: | |
| Value: | |
| Average: | |
Check Price
You can produce, play and manage the looped phrases in real time, if you choose the VOX LL1 looper multi-effect pedal. It allows you to record 90-second long loops at a time. In addition, you can loop the music time-and-again and improve the quality of the music by adding different effects. This looper pedal is a very compact size looper pedal that comprises some really amazing features that you get only in large size looper pedals. Its small size and shape makes it a perfect choice for those guitarists, who often travel different cities to play music.
Some of the most astounding features of this looper pedal include the overdubbing feature. It has a dual pedal design that allows you to switch between two separate loops. The Loop Quantize feature is also amazing because you can produce long phrases and synchronize two different loops through this technique.
---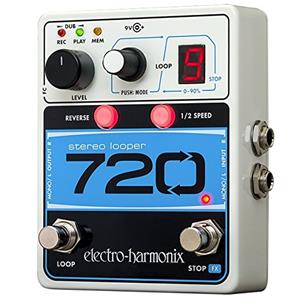 | | |
| --- | --- |
| Build Quality: | |
| Features: | |
| Sound Quality: | |
| Value: | |
| Average: | |
Check Price
If you want a looper pedal that can offer a long stereo recording time and which is small in size, the Electro-Harmonix 720 Stereo is the best looper choice for you. It offers 12 minutes of stereo recording along with ten independent loops. You also get unlimited overdubbing feature with this compact size digital looper pedal. This pedal is for all the guitarists. It has intuitive tools that lead the newbie guitarists towards a better performance. You can include the inbuilt distortion to get more growl and grind. You can improve the performance of this pedal and produce jaw dropping wah effects without using the distortion. All you have to do is plug in an expression pedal and your job would be quite simple.
---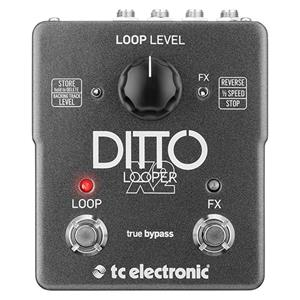 | | |
| --- | --- |
| Build Quality: | |
| Features: | |
| Sound Quality: | |
| Value: | |
| Average: | |
Check Price
TC Electronic is a renowned name and the guitarists know it as one of the best looper pedal manufacturing companies. The Ditto X2 is a revolutionary product from this brand. It offers 2-button user interface that comprises the basic features of the original Ditto Lopper, two impressive effects, you can fix it into your rig according to your convenience. The first footswitch would provide you with 5 minutes of 24-bit looping and infinite overdubs. In addition, the second footswitch would provide the half-speed and reverse effects that you apply simultaneously.
Yes, there is a USB port that allows you to pass loops and music to your PC. It also offers some mandatory modern looper features like stereo input and output along with different setup options.
---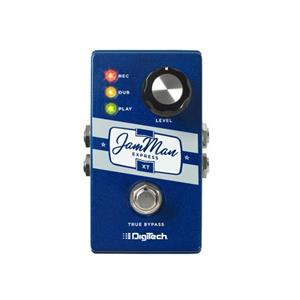 | | |
| --- | --- |
| Build Quality: | |
| Features: | |
| Sound Quality: | |
| Value: | |
| Average: | |
Check Price
It is a feature-rich compact looper developed by Gigitech. It is providing a 10-minute stereo recording facility and the True-Bypass Jam Sync Silent Clear feature. There are separate displays for the overdub, record, and play status. It is a reliable looper pedal that is quite small in size and very user-friendly too. It is equipped with a 9V battery that helps you in keep playing the guitar without requiring the power supply. However, there is also an optional power supply feature to use the looper pedal.
Whenever you want to produce perfectly synchronized loops, the Jam Sync can automatically synchronize with the JamMan Solo XT to meet your demands. Thus, you will be able to create independent loops without any trouble. The Jam Sync is quite necessary for you, if you want to produce multi-track loops for your band.
---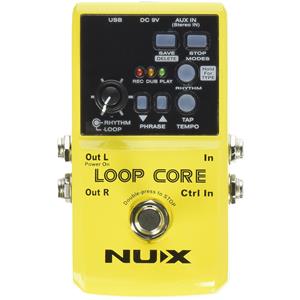 | | |
| --- | --- |
| Build Quality: | |
| Features: | |
| Sound Quality: | |
| Value: | |
| Average: | |
Check Price
The NUX Loop Core is certainly the best choice for you, if you don't want to spend a large amount for buying the Boss RC-3 Loop Station. The experts have no doubt about the performance of this looper pedal. They think, it can meet the performance level of other high-quality looper pedals. It has a solid metal body construction and it also has inbuilt choices of drum patterns, USB connectivity, the multiple phrases storing feature, stereo input/output facility, and the facility of adding additional footswitches. Only some expensive looper pedals offer such top-class features, but NUX Loop Core is quite affordable.
The loop creation is a pretty simple task and you can immediately save the recorded loops. You can use any of the 40 drum patterns by holding the Rhythm button. According to the mentioned features, the Loop Core is certainly a great choice.
---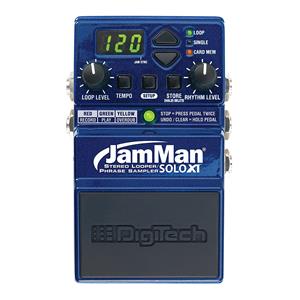 | | |
| --- | --- |
| Build Quality: | |
| Features: | |
| Sound Quality: | |
| Value: | |
| Average: | |
Check Price
Digitech is one of the most reliable brands in the musical world. It has been producing the digital devices for musical instruments since last three decades. Now this brand is eager to take the guitarists' looping experience to the next level. The JMSXT is another great looper pedal from Digitech that provides you with the definitive stereo looping experience. It is an essential tool for composing quality loops and performing on the stage because of the seamless transitions between looped phrases. You can record and store over 35 minutes of stereo. It offers an optional micro SDHC card on which you can save 16 hours of high-quality audio.
It is quite useful for the professional guitarists because they can record rhythm loops and solo over them. It can be synchronized with the JamMan Solo XT pedals. It means, you can produce multi-track looper to play like an expert.
---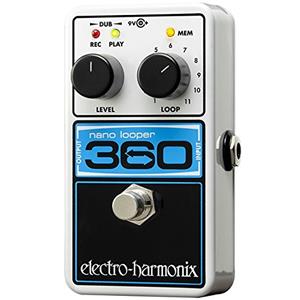 | | |
| --- | --- |
| Build Quality: | |
| Features: | |
| Sound Quality: | |
| Value: | |
| Average: | |
Check Price
It is another great tool from Electro-Harmonix that allows you to record 360 seconds of loops. You can record 11 different loops in that time to get better control and flexibility. It produces top-quality sound and the unlimited overdubbing feature makes it an excellent choice. It has user-friendly controls, which means recording the loops, overdubbing, loop erasing, and undo/redo would be quite simple.
---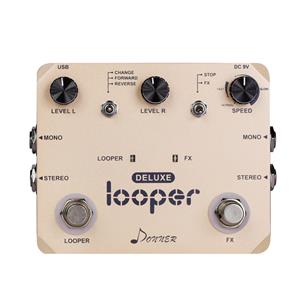 | | |
| --- | --- |
| Build Quality: | |
| Features: | |
| Sound Quality: | |
| Value: | |
| Average: | |
Check Price
It is a powerful twin pedal looper that offers infinite delay feature. It has a pretty simple design and some amazing features like analog dry-through, true-bypass, and high-quality audio output. It offers ten minutes of looping time along with unlimited overdubs. You can use the undo/redo feature to choose and record quality loops for your tracks. You can get it at very reasonable prices and create some amazing loops with this user-friendly tool.
---
How to choose the best looper pedal?
There are a few important things that you need to check while buying a Looper Pedal. We have listed a few of them to guide you in the purchase of the best looper pedal.
Memory or recording length:
The recording length is probably the most important consideration, when you are searching for a looper pedal. These digital pedals come with some inbuilt memory. You can also expand the memory space by using an SD memory card. It will help you in saving the recorded loops in stereo at CD quality. You should check the recording length of the looper pedal and search for a pedal that can record a long loop.
Does it allow you to play multiple loops at a time?
In most of the pedals you can play only one recorded loop at a time. It is not an issue, when you are practicing at home. When it comes to building music for an entire song, you will need a looper pedal that can play multiple loops concurrently. Such pedals exist and you should search for them.
A looper pedal with the mono output is quite good for jamming and testing your performance skills in front of the amp. However, you would seek a stereo output, when you want to record the loops in stereo.
The reverse looping feature:
Some looper pedals can be available with the reverse looping feature. You will record the loop and the pedal will itself loop it backwards. Most of the modern guitarists need this feature in the looper pedal and you should also consider it, when buying a new looper pedal.
Check the best looper pedal reviews to find the best
The above explained methods can lead you towards the best looper pedal and help you with buying a reliable digital looping instrument. You may spend a long time by considering all these things. We have reviewed the best pedals to help you in saving your time and buying the best one.