Overdrive Pedals are a necessity for most musicians, especially the ones most interested in rock music. Overdrive is a type of audio signal processing which helps to alter the way a musical instrument sounds or functions. The alteration is made possible usually by increasing their gain. The small nuances of a musical piece or performance that seem to tug at your heartstrings and manage to make you happy have a lot to do with the type of overdrive pedal that one uses. Something this technically significant has to be bought seriously and one should only agree to purchase the one which is most well suited to their talents and techniques. Some might want user-friendly products, and some might be more focused on the tonal implications that it brings about. They are usually not extremely expensive and can help enhance a musical piece. The world has advanced to such a state that there are so many variations to suit the minute quirks of one's personal preferences and it is a good thing to be aware of one's choices thoroughly. Here we have a list of some overdrive pedals you can check out before you commit to buying any.
Top 10 Best Overdrive Pedals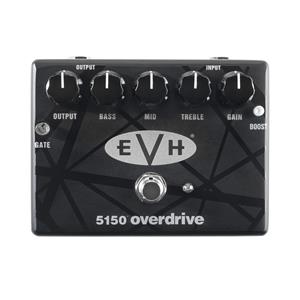 | | |
| --- | --- |
| Build Quality: | |
| Features: | |
| Sound Quality: | |
| Value: | |
| Average: | |
Check Price
The MXR EVH5150 takes inspiration from the music of Mr Eddie Van Halen himself. He has provided a considerable amount of input to Mr Bob Cedro for the designing of this masterpiece. This pedal is by Eddie, but its uses are numerous which contribute to its versatility and uniqueness. The pedal's control panel consists of bass, mid, gain and treble. It also has a mini-button that can be used for 'boosting' which contributes to increasing the gain as well as compression without increasing the overall volume of the instrument and also a small indicator for MXR's Smart gate noise gate which turns into yellow when it is in active mode. It is an extremely super-charged and unique overdrive pedal which gives one the satisfaction of reliving the classics of EVH while also staying in sync with the modern day ones. One has to use this to understand the complete thrill of the amazing experience given by this pedal with its admirable and bright sound quality and one too many features. No musician will go disappointed after using this gem of a pedal. The long durability period, strength and the reliability of this pedal makes it a must have for music lovers.
---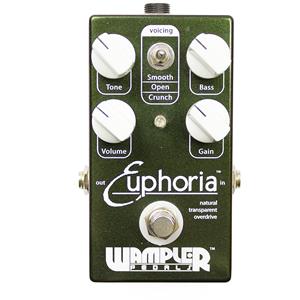 | | |
| --- | --- |
| Build Quality: | |
| Features: | |
| Sound Quality: | |
| Value: | |
| Average: | |
Check Price
While designing the Wampler Pedals Euphoria, Mr Brian Wampler paid close attention to the prevalent Dumple amp sound. This pedal with its ability to affect a guitar's tones with lots of alertness and warmth is a must have for any guitar lunatic. It is extremely attentive to even the smallest changes in the pick attack and the volume control. It consists of four knobs belonging respectively to the volume, bass, treble and gain. This pedal provides one with a variety of tones ranging from crunchy to creamy also providing a light fuzz if one desires it.The gain structure in this beauty is pretty advanced for its time which further helps it to deliver an array of fantastic and mesmerizing sounds. People who are more focused on the tone of their instrument will find this model to be a hearty treat. This pedal's versatility will make anyone satisfied with the companion they chose.
---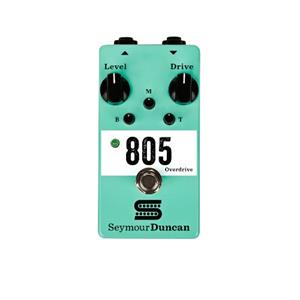 | | |
| --- | --- |
| Build Quality: | |
| Features: | |
| Sound Quality: | |
| Value: | |
| Average: | |
Check Price
The Seymour Duncan 805 is the overdrive which fulfils every guitarist's dream. It takes the overdrive tones to a whole new level of smooth without comprising the original tones. In comparison to other pedals, a unique feature about this overdrive pedal is the 3-band EQ controls in replacement of the otherwise general tone controls usually found in other pedals. Owing to its additional controls this pedal helps guitarists to create a rare and fascinating extra channel with their amp. This pedal designed around the 808 chip but later the designer Mr Seymour Duncan decided to continue it with the MC33178 which is said to provide superior sonic tone along with reduced noise and a stronger battery life. It gives all that is necessary for an overdrive in all its versatility and glory with its ability to jump from lean boost to metal distortion and to do so effortlessly. The 808 Tube Screamer model is just a starting point for this pedal. The battery compartment is easy enough to access at the bottom of the pedal, and it also has green LED lights for indicating on/off. The tonal versatility is effortless in this one, and this is one overdrive pedal you would never want to unplug.
---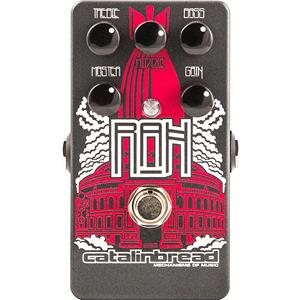 | | |
| --- | --- |
| Build Quality: | |
| Features: | |
| Sound Quality: | |
| Value: | |
| Average: | |
Check Price
The Catalinbread RAH Royal Albert Hall has a three knob tone circuit. The buttons are highly interactive and interdependent which means that one has to know exactly how to synchronize the three knobs to create a melodic masterpiece. The treble knob is subtle and soft compared to the other two buttons which in turn can help one in getting a fantastic and dreamlike sonic combination of tones like never before. This pedal has an incredible dynamic range which makes it effortlessly blend from creamy to crunchy in the flip of a second. It is uncompressed, raw and original- just everything in music should be. One can experience an amazingly dynamic response and more than recorded performances of an individual piece where it more or less functions well, its true glory lies in live and band performances. The way it lightly hits the fuzz notes puts one in a trance. One drawback of this beauty is that it requires a terribly high volume to emerge out of its shell, but nevertheless, this is a once-in-a-lifetime buy.
---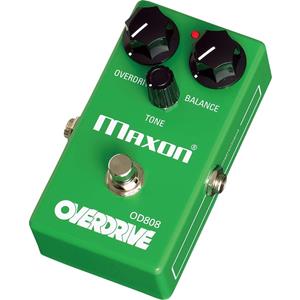 | | |
| --- | --- |
| Build Quality: | |
| Features: | |
| Sound Quality: | |
| Value: | |
| Average: | |
Check Price
The Maxon Reissue Series OD808 is a product of the same Japanese company which had crafted the original overdrive pedal, and they also share identical circuits. It consists of the JRC4558 IC chip to enhance the natural overdrive capacities which further makes it capable of picking dynamics magnificently and at the same time also respects the uniqueness of style of an individual. It also through its capabilities manages to highlight the exceptional and magical abilities and wonder of the instrument. In other words, it is a real team player giving every aspect its required due. After its initial release in 1979, there was an enormous amount of imitation that followed all due to its pure tone. The clean booster helps in receiving an increased gain. The amplifier section of the circuit is crucial to its unique sound. This pedal has different output resistors than the original, and the noise tolerance is more efficient than the original. In short, this remake is a must have in one's collection not only for its distinguished lineage but also for its own numerous and fascinating capacities.
---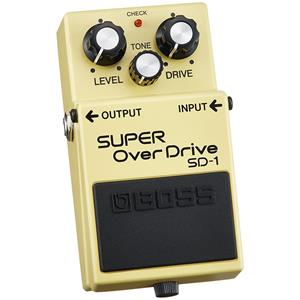 | | |
| --- | --- |
| Build Quality: | |
| Features: | |
| Sound Quality: | |
| Value: | |
| Average: | |
Check Price
The Boss SD-1 Super Overdrive has an edgier tone than its tube screamer counterparts. It provides unhindered attention to your delicate and unique picking technique along with providing a smooth distortion of a tube amp. The symmetric drive circuit has to take credit for its exceptional sound quality and features and also gives a rich and soothing overdrive effect. It is a firm pedal with enormous capacities for sonic versatility. The tones produced are basic and simple and beautiful. It consists of a single jack, one out jack, a LED status indicator and also an enormous on/off foot switch. The knobs are extremely accurate and precise and help in producing high-quality tone as well as a solid sound. The versatile nature of this pedal makes it possible to carry out the most challenging and tricky notes with ease and effortlessness.
---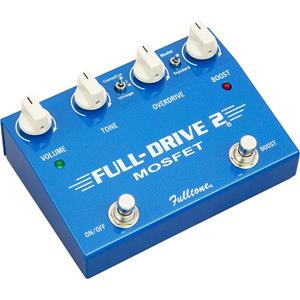 | | |
| --- | --- |
| Build Quality: | |
| Features: | |
| Sound Quality: | |
| Value: | |
| Average: | |
Check Price
The packaging of the Fulltone Fulldrive2 MOSFET is glorious, in a blue 16-gauge steel package. One would be satisfied with this pedal as it is most capable of providing everything such as non-compressed data and clean as well as raw boost through its switchable channels. This pedal is a reliable companion for any musician, and its toggle switches also allow selection of Comp Cut/vintage and highly standardized overdrive styles. The MOSFET helps to bring finishing and working on the rough edges of a musical piece if it has any and the old mode contributes to adding a legendary touch for the nostalgic. It is incredibly natural and does not alter the tone of the guitar. It is beneficial for solo performances, and another huge benefit is that there is no sound degradation or signal loss when the device is off. It uses a 3 DPT (double-pole-double-throw) switch and is also extremely sensitive to even the slightest alterations made to the knobs. It is expensive, but the reliability and assurance of quality and sound that comes along with it sure make it an irresistible deal.
---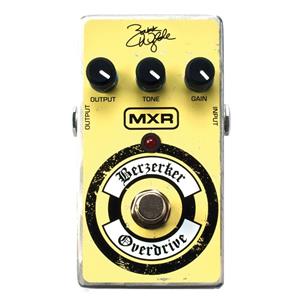 | | |
| --- | --- |
| Build Quality: | |
| Features: | |
| Sound Quality: | |
| Value: | |
| Average: | |
Check Price
The Zakk Wylde inspired MXR Wylde Overdrive is like a fresh breath of air for musicians along with a vintage touch added to it by its simplicity. It consists of three knobs and is incredibly easy to use and is perfect for a jamming session with your guitar buddies. Out of the three buttons, the output works like volume. The transitioning into different tonal zones is as smooth as one could ever hope. You will only notice the sound changing from treble to bass or vice versa but never the effort on the device's part to make the transition flawless. The one thing this pedal does not compromise with is the sound quality. It also helps you create your new unique sounds as well. It is a bit noisy, so a noise gate is a necessity but apart from this minor setback, this beauty is definitely worth the money.
---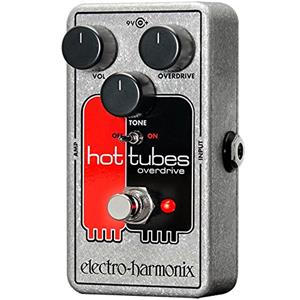 | | |
| --- | --- |
| Build Quality: | |
| Features: | |
| Sound Quality: | |
| Value: | |
| Average: | |
Check Price
Since its original version released in 1978, this pedal has been receiving continued popularity.  The Electro-Harmonic Hot Tubes Nano is just as amazing as its vintage counterpart. There are only minor differences between the vintage and nano versions. The circuits remain unchanged except that now it comes in a much smaller aluminium closure and also contains a CMO semiconductor and a FET chip.  Along with amazing features like low noise and straightforward controls, the low price along with a high quality and robust reliability based on the nostalgic faith in the old original makes it a must have. One of the drawbacks of this overdrive pedal is that if one wished to get a modification, it could prove to be almost impossible owing to its small size. However, along with its old lineage and overall outstanding performance, it is most likely that a modification will hardly be necessary.
---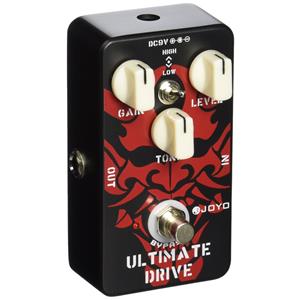 | | |
| --- | --- |
| Build Quality: | |
| Features: | |
| Sound Quality: | |
| Value: | |
| Average: | |
Check Price
The Joyo JF-02 Ultimate has a few essential features which make it extremely user-friendly and easy to operate and combined with the reasonably low pricing, and excellent sound quality makes it a must-have treasure. The richness in tone remains intact, and one can experience an all-consuming nice full sound with just an increase in volume. This pedal is like a reliable old simple friend who will not let you down. The high-quality sounds and the effortlessness of which it is producing makes it a rare gem. This overdrive pedal highly reduces the ambiguity surrounding Chinese products. Its reliability and superb sound quality are proof that cheap does not always mean low-quality products. The success of the product highlights the high level of efficiency of its makers and also shows its brilliance.
---
Conclusion
Music is a happy and much-needed break from reality, but that does not mean that decisions regarding its important aspects, especially something as grave and essential as an overdrive pedal should get due importance. The overdrive pedal doesn't guarantee to make you a superstar overnight but if you choose the right one, it can profoundly enhance your talents and can be a supportive companion on your road to stardom.  With the information provided above about the various important aspects of an overdrive pedal such as sound quality, versatility, durability and much more your world has opened to a whole new set of information which can help you choose the pedal most suited for you. The overdrive pedals mentioned above are all as good as the other, but at the same time, each has something that makes it different than the other hence making it appealing to various types of musicians. Some are strictly band or live performance oriented while some are more inclined to studio and solo performances. A few are masters of versatility and efficiency and therefore make it a complete package. Choices have never disappointed anybody and especially when one has to choose between the better and the best. Take a look at the minute details and intricacies of your favorite overdrive pedal and make a well informed and guided choice.