A guitar is probably a lonely man's best friend. It is also the most mesmerizing instrument there is in this world. A loner's friend and yet, the six strings can shake up thousands and make them lose themselves for the love of music. However, at the heart of a great piece resides great tunes and these great songs are performed in harmony only when the guitar itself is in perfect tune. That condition is only possible when you have a fantastic guitar tuner in your possession.It is the tuner you can rely on to create magic on stage.
So, if you are an amateur guitarist or a professional one, never neglect your tuner and always try to buy the best. The general attitude towards guitar accessories is that of neglect precisely because most people tend to think that a great guitar from a well-known brand will propel them to glory. However, a signature guitar only sounds magical in the hand of Eric Clapton because he knows the perfect tuning. So, learn how accessories matter in music and the rest shall come as quickly as they do. Here are some of the best tuners in the market, handpicked for you:
Top 5 Best Guitar Tuners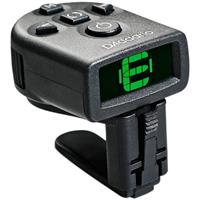 The tuner is all about the fastest possible response, and the D'Addario NS Micro Clip-On Tuner can surely boast of the most rapid response among many. It also features expanded the range for calibration with a visual metronome while the backlit display makes the tuning process easy on your eyes. The best feature of this tuner is the excellent noise cancellation which lets you tune anywhere, even right in the middle of a concert. In fact, the reversible screen allows it to hide the tuner during a concert behind the headstock if need be. So, the tuner is clamped to the instrument and remains invisible. There is a 360-degree swivelling option which offers optimal visibility and best camouflaging for the guitarist and the audience possible. Most importantly, you can quickly tune any guitar and every other string instruments like Mandolin and banjo if you want. Check Price
---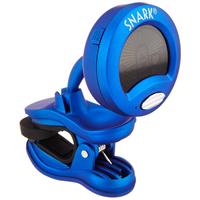 Tuning matters for all guitars and few know it better than Snark. Hence, the Snark SN1 Guitar Tuner is made for the most precise adjustment for lead guitarists as well as bass guitarists. The clip-on feature makes on-spot tuning as easy as possible, and you can enjoy while playing too. This brilliant tuner, displayed in vibrant colors with a 360-degree rotation mechanism, also comes with a broad range of pitch calibration spanning from 415 hertz to 466 hertz. It also houses a vibration sensor that boasts of excellent sensitivity. Hence, you can detect slightest changes in tuning, and your accuracy level will be abysmally high. There is also a tap tempo kind of metronome available for this tuner. All in all, the tuner packs a lot of things in one and surely ranks among the best. However, others are giving more than stiff competitions. Check Price
---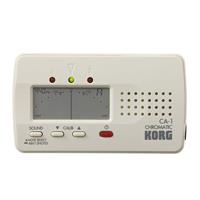 If there is any tuner that can be called the pocket-size powerhouse, then it has to be Korg CA1 Chromatic Tuner. It is probably the best guitar tuner there is, and there is not much doubt about it considering it probably lays claim to be the most well-equipped tuner on the market. Its supremely compact size comes with a tilt silt which lets the sound in and there is provision for entering a plastic card that enables you to make it stand on your guitar. Instead of a display, an LCD needle is used which enhances the visibility from LED, and the LEDs indicate pitch variation as well as deviation. You can use it for more than 100 hours continuously and still it would function equally brilliantly. The calibration also has a wide frequency range with provision for changing within 1 Hz of frequency if need be. There is a fascinating memory backup available which lets you store a particular calibration and reference pitch if need be. Check Price
---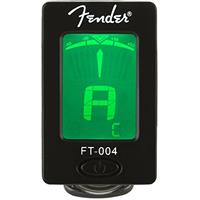 In the world of Guitar and acoustics, Fender is a name that has everything, and its greatest proof is that it has churned out a premium quality tuner too in the form of Fender Clip-On Tuner FT-004. While primarily small, its unique body and design allow it to be seen under little light and tuning in crowded areas with lots of white noise. You can tune instruments like Guitar, Ukulele, Bass, Chromatic and Violin. There are bright green markers to understand the tuning when in tune and the instrument would be white when not in tune. The unusually small body allows for discrete placement, so much so that even with the clamp, it is hardly visible from a distance. Check Price
---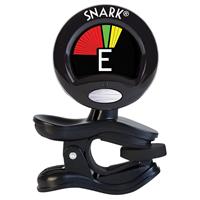 Snark is famous in the world of tuners for quite a few fantastic tuners, and the Snark SN5X Clip-On Tuner is an addition to its unusual repertoire. It belongs to the domain of clip-on tuners, and as the claim goes, clip-on tuners are the best for gigs because they are easy to carry without displaying. With this tuner, you can quickly tune even in between performances on stage, such is the accuracy and technology of this tuner. Moreover, this clip-on tuner is probably the best budget tuner around given its insanely low price. This particular series of tuner also comes with a wide variety of sizes according to your guitar. So, you can easily choose an appropriate size according to your instrument. Snark is particularly useful for guitarists because even when you are hitting unnecessarily sharp or flat notes, it will show how close or further away you are from your perfect tune by color coding. Check Price
---
Conclusion
A guitar tuner is so powerful and yet so small that you often forget how important it is. Previously, when there was no guitar tuner, an able person, or the guitarist would have had to choose a silent place to tune his instrument to perfection. However, with the arrival of technology, especially the clip-on tuners, you can just attach it to the guitar body. Moreover, the noise cancellation technology is of the highest order nowadays, so you can quickly tune in even in the noisiest conditions. The clip-on are nowadays designed to save the guitarist from revealing the tricks on stage.
So, tuner manufacturers are nowadays making the tuners smaller and smaller so that it is only for the guitarist's view. So, live gigs become much easier for everyone since they can just tune their guitars while other members of the band have some fun time in the stage. Even if the lights are dim and 50 thousand people are screaming at the top of their voice, you can quickly tune your guitar while the other members of the band try to engage with the crowd. Tuners make the tuning process invisible and much simpler than ever before, and it is probably the greatest boon for guitarists.
Once you have decided which tuner you want to buy, you should also try other tuners. Otherwise, the decision may well be hasty. Try to test whether this tuner is visible or not from a distance since you really won't want to be caught tuning hastily in the middle of a show. Most tuners are nowadays fantastic in their tuning capacity, so their placement becomes of supreme importance. More importantly, the professional guitarists surely won't take time for tuning adjustment, but they sure don't want to be seen. Hence, the concern for tuners has also shifted.